CASTERMAN
#Edition #Influence #Contest #Concept #Ads
We support Casterman in developing the visibility of its best-selling book collections:
The famous heroine of the little girls " Martine " who, this time, invites herself to Versailles.
The objective is to make people discover the album "Martine au château de Versailles" through an influence campaign on Instagram (promoting a parent/child reading moment, staging content related to the château de Versailles and organizing a contest).
The spy saga " Cherub " with its 17 volumes, for middle school students
For this campaign, we develop a concept of (fake) recruitment of schoolboys-spies who will have to join the spy agency Cherub. 3 levers are activated: the creation of an interactive Snapchat filter like a personality test ("which agent are you?"), a campaign of influence on Snapchat to amplify the use of the filter and work on Cherub's notoriety with the launch of a contest and the diffusion of Ads campaign on Snapchat and Instagram to work on the notoriety among teenagers and parents buyers.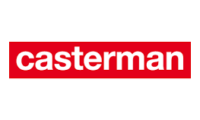 INFLUENCER COLLABORATIONS " MARTINE AT THE CASTLE OF VERSAILLES "
INFLUENCER COLLABORATIONS "CHERUB"